With Surrogacy Preity Zinta and Gene Goodenough welcomed their twins: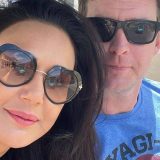 Thursday starts with the good news of a Bollywood celebrity, announcing her parenthood beginning as the result of surrogacy. 
Preity Zinta and Gene Goodenough, her husband, had become parents through surrogacy and welcomed one baby girl and boy. With revealing the happiness on social media, Preity shared a pic with her husband and wrote: "Hi everyone, I wanted to share our amazing news with all of you today. Gene & I are overjoyed & our hearts are filled with so much gratitude & with so much love as we welcome our twins Jai Zinta Goodenough & Gia Zinta Goodenough into our family."
Preity had also revealed the names of her children as Jai and Gia.
For thanking and showing her gratitude toward the journey and experiences of surrogacy, Preity stated: "We are very excited about this new phase in our lives. A heartfelt thank you to the doctors, nurses and to our surrogate for being part of this incredible journey. Loads of love and light – Gene, Preity, Jai & Gia #gratitude#family #twins #ting." 
Surrogacy has been a popular way of becoming parents for a long time and now becoming more successful with its legality and advanced methods. 
Surrogacy in India is demanding and, WE CARE IVF SURROGACY is the best centre for infertility treatments that provide surrogacy and other therapies in India and other countries.